Off The Trail … what's up with that?"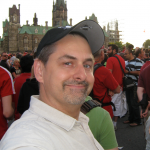 Hiker Mike: Over ten years ago, I had an opportunity to participate in the start of a technology podcast and turned it down. Fast forward to about 2008 – Ken Szeto mentioned to me that he wanted to give pod-casting a try. Since then we have talked over many ideas and themes, but we always came back to the theme of Camping. I think it was around the summer of 2009 we thought up the names Camper Ken and Hiker Mike and first considered starting recording interviews on topics that revolved around our love of the outdoors, camping and photography. Since then we have visited several Federal and Provincial parks with other friends (Neil, Zoe, Pauline, Paula and Richard). I think of this as our background research phase of the project. For now we have this blog "Off The Trail" and hope to keep everyone updated on our travels around the world and here at home in Canada.
---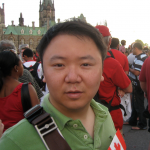 Camper Ken: We agreed to launch the web site February 1, 2013. Given the learning curve on setting up this web site / blog, I am hopeful that launching the podcast will not take another five years. If so check in with iTunes in 2018 for our first episode.
---