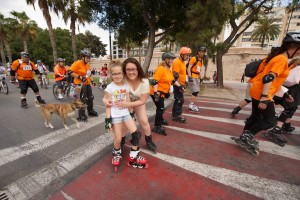 "A small, sunny port…a bike race greeted us at the port, and many of us wandered through town to try to find the one possible yarn opportunity. Unfortunately, the building at the address for the yarn shop was gone! We found a wonderful little bakery to enjoy some pastries, as were many others! This port also had a terrifically preserved Roman Theatre and museum, which many of us took in." — Paula.
The whole city was alive with activity. Young and old all out on roller skates, bikes and unicycles. It was a challenge for some to navigate the street encircling the city core with all the skaters and bikers whizzing by. But a few stopped to pose for pictures.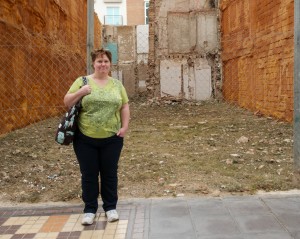 Our first stop was a bit of a bummer. The yarn/knitting shop that was posted on the suggested list was no more. Its building levelled to the ground.
As we walked the city we noticed that much of the town was scattered with vacant lots where buildings once stood. The many for sale and for rent signs on closed businesses clearly was a sign that the global economic collapse had hit Spain hard.
Here is a collection of pictures from Cartegena.