The right backpack for hiking with your camera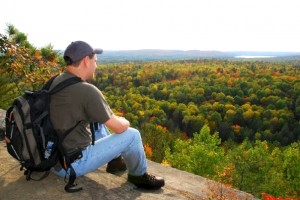 I love my Digial SLR camera gear. I find that the weight is not always an issue for me as long as I use the right camera and lenses with the right camera strap and the right camera bag. This blog post is not focused on what a professional photographer needs when doing a remote photo shoot in the middle of Algonquin. But being prepared is important. The selection of the right backpack or short sling bag for the trip and weight of gear is very important. In a later post I will write up my thoughts on selecting the right camera, lenses and straps. For this post, my focus in on selecting the right backpack.
I normally hike trails with a light day pack (one of Ken's old ones) and when I am doing urban hikes / street photography, I carry a few lenses and a second body in a Lowepro bag. I find that a cheap day pack or shoulder sling style bag is great for holding a bottle of water, a snack and spare camera battery.
The all weather Lowepro AW 350 that Ken talked me into buying a year ago holds everything I would need for a full day photo shoot. In December 2012, we took a trip to Chicago and I carried a full AW 350 and tripod with me for three full days. The bag worked very well for me on that trip. Last I checked Adorama has an excellent selection of Lowepro All Weather camera bogs available such as the Pro Trekker 400 AW Hydration-Ready, Expedition Camera Backpack.
All Things Photographic at Adorama.com. Shop Now!
In September last year I attended Martin Bailey's pixels2pigment workshop. When I greeted Martin at the airport he was carrying a Kiboko bag. He recently did a video review of a newer Gura Gear backpack .. for information on that bag, I encourage you to check out his blog posting at http://blog.martinbaileyphotography.com/2013/01/22/gura-gear-bataflae-32l-camera-backpack-review-podcast-358/.
For serious off the trail camping and for longer hikes, I use a Osprey Aether 75 liter backpack. I bought the Aether 75 a few years ago from Hikers Haven in Oakville. When I recently searched Hikers Haven's parent company's web site to prepare for this blog entry, it looks like they are no longer carrying Osprey gear. They do have many equivalent brands. Check out Osprey's web site www.OspreyPacks.com for more information on their updated models.
The Osprey Aether backpack is really geared to carrying a single persons camping equipment and provisions suitable for a four or five days adventure. Both my niece Nicole and nephew Kyle have borrowed my Aether 75 and loved it. Adding a DLSR, tripod and several pounds of Lenses is really not what using this pack is all about. Once this pack is on and you are moving .. you will not want to stop and unpack the bag to get at that lens you need to capture that special moment.