Adult co-ed Hockey in Burlington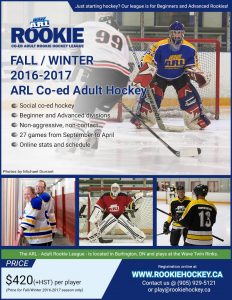 Since the summer of 2008, Burlington has been home to the Adult Rookie Hockey League (ARL). Camper Ken joined the ARL the first summer and I signed up for the league's first fall/winter season (September 2008). Since then the league has grown from its meagre start with only eight teams (with two skill levels) to thirty team (with five skill levels).
If you are an adult living on the west side of the GTA or the Golden Horseshoe close to Burlington, and want to play co-ed hockey, I would recommend you visiting the ARL web site www.rookiehockey.ca to learn more and consider registering for the fall/winter 2016-2017 season.